Good morning, good afternoon, good evening, Pinkryders! Summer's coming to an end (unless you live where I do-hello 90 degree Christmas!) and fall's coming up! Though the sun is still shining and school is starting, summer isn't
officially
over just yet! Now is the perfect time to start stocking up on fall clothing. Deals are going through the roof on jeans and long sleeved shirts per usual at this time of the year, and you really can't beat it! Tons of stores at my local mall are clearing out their summer clothing as well, so make sure to check some of the classic tank tops, cool jeans, etc., because you'll thank yourself when you wake up one lovely Saturday morning and you realize that it's nearly 90 degrees outside. You'll also realize that you don't have any summer clothes for this year......
Unless, of course, you stopped by confessionsofapinkwriter.blogspot.com or something. ;) Anyway, Whether you're going off to college or high school, this blog has got you covered. Whether it's shoes, shirts, jeans or jewelry, I've featured it in this post! Totally different styles will show up ahead, but fear not, have I ever lead you the wrong way? Nope. Whether you're looking for leather, staring at that rad jean vest you just got, or putting on your new fringe boots, you'll find something on here to go with it!
So, without further ado, *tells sibling to start the drum roll,* carry on...
LEATHER, LOL.
You may be thinking, "Leather? Leather what? This chick is crazy." I'm not, really. Many, many celebrities have donned different types of leather attire, and they've even suggested it for this coming fall season! Now, I'm not telling you to go full-on "I'mma rockstar, fear my leather," and I'm also not telling you to become a motorcyclist, just add a little leather to an everyday outfit. Whether they're leather gloves, leather boots, the sleeves on your shirts, or even a full-on leather jacket, you'll look amazing! TONS of stores are starting to put out leather-Target, Walmart, Forever 21-you can't beat it! There's no doubt that people will see the leather and be like "what?" instead of "awesome", but eventually, the world will be "what?-ing" because leather will be everywhere! The clothes below are from Target!
These boots were made for walking.
I don't know what boots you're talking about, but I'm talking about this season's latest boots. Now, nothing is set in stone for what people will be wearing this fall (slouch-again?), but I'm totally loving fringe boots! Whether they have heels or not, they are adorable! These boots can be worn for any occasion. If you're going to a party, just pair them with a dress and voila, amazing! They are the epitome of cute when you wear them with skinny jeans and a slouchy sweater as well! Basically, whatever you want to wear these boots for, they'll go. I'm serious. Also, combat boots, my friend, are my best friend. THEY. ARE. SO. AMAZING. I literally can't get over the fact that they can go with, like the fringe boots, anything. They add a different vibe to whatever outfit you're wearing-and that vibes is confidence. Or maybe it's "I'm going to step on you." I'm still not sure. ;) The boots below are from Target (the first one), American Eagle (the second one), Zappos (the third one!) and last, but not least, Payless!
Because You Don't Wear Plaid in the Summer
I don't know, man, but I've never worn plaid in the summer. That's just my thing. But for winter? That's a different story. Do you know what that means?!? TIME TO WEAR PLAID! I mean, don't pull out a pitchfork and button up that flannel shirt, but just add a little plaid to your outfit. This year, from what I've seen in magazines + sales papers, 3/4 quarter sleeved fitted plaid shirts look pretty rad. You can wear plaid with coordinating colored skinny jeans (never normal fit jeans if you're wearing boots-never. ;) and tuck the jeans into one of the boots I put above! Whichever boot you choose to wear sort of changes the vibe of the outfit. From girly girl, to country girl, to fashion girl, to don't-mess-with-me girl! I already stocked up on a few plaid shirts for myself, so go follow suit! The first one is from Target, the second is from Walmart and so is the third one. The last one is from Old Navy!
Outfit example:
Put a beanie on it.
Is anyone else obsessed with beanies? I LOVE THEM! If you're having a bad hair day, wear one. If you're not, wear one! Though usually, when I wear one, it's suspected that I'm having a bad day. Oops. Or that I'm trying to be hipster. I'm not really! *Clears history because "hipster clothing" is in there.* ;) Tons of celebs like Demi Lovato, Alli Simpson, Kylie Jenner, Beyonce, and Selena Gomez have been caught wearing beanies! It won't make you look like you're in a certain fanbase, and you won't look like you're trying to be hipster unless you have suspenders on, glasses, and galaxy print jeans, so, unless you're wearing that, you're good to go. ;) You can get beanies at Forever 21, Civil Clothing, Pacsun, even Walmart! Below, you'll see Alli Simpson and Kylie Jenner rocking beanies! The two beanies are from Pacsun!
70's, Huh?
Dude, I'm not tripping, get out your floral and style it! Magazines are going absolutely
crazy
with floral-you have got to try it! There is only one exclusion when it comes to floral this year-don't wear flower covered jeans. That was 2012, and we all knew that 2012 style never existed, right? ;) What I'm talking about here is shoes, bags, JACKETS! Any of those seem totally sick to me right now-and people are starting to wear these things too! LOL! I promise I'm not trying to take you back to the seventies, (I heard they were
all
about flowers and white shoes and-no, just, ugh-) and I'm not trying to turn you into the #TBT queen, either, just trust me on this, have I ever told you wrong? (No!) Pairing that floral zip up jacket with your newest skinny jeans is a YEAH! White skinny jeans and those rad lace up floral kicks? Uh, yeah. You can grab your floral jackets at places like Target, Forever 21, Anne Taylor, ZARA, and H&M! You can get floral shoes from Vans, Yesstyle.com, Nordstrom, and Target! The first shoes are from Yesstyle.com, the second is from Target!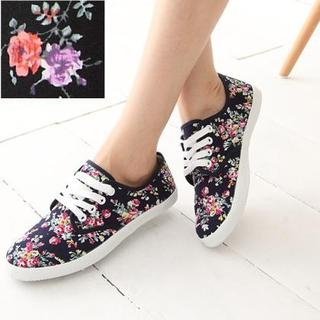 Ooooh, Jewelry!
Exclamation, exclamation, exclamation! Statement earrings/necklaces are SO going to be huge this year. And when I say statement, I literally mean...statement! Whether your earrings or necklaces are being all cute and saying "love" or you take the 1D approach and get some earrings or a statement necklace that don "WOW!" "BOOM" "ZAP" or whatever you'd like, they'll work for this season! Usually following along the lines of this style would be the assumption that you are in some type of fanbase, but soon enough, it won't mean that! Trust me, I know. ;) You can get these types of earrings/necklaces at Forever 21! These AMAZING earrings/necklaces below are ALL from Forever 21! (AKA my favorite store...But I think ya'll already knew that....;)
Well, my good people, I cannot think of anything else that I think will be big this fall/winter, but as I do find more finds, I'll post them onto this blog! So make sure to keep an eye out of "Falling For Fall (*Channels Inner Cliche*)" and see what you can find! So, have any of you actually gone fall shopping yet? Like I said above, the deals are flying through the roof right now on winter stuff, so be on the look out for that as well! I am also seriously liking those statement necklaces, and I'm already stocked up on boots, so I guess it's all up to you guys now! What did you think? How much do you like those floral jackets? Did you enjoy all those floral kicks? I had a pair, they were awesome! :) Also, what did you think of that leather stuff? I've seen MANY people wearing leather things, and they looks chic but edgy, if I'm going to be cliche about it. ;)
I'm not trying to be hipster, really, *hides galaxy print leggings*,
xoxo,
The Pinkwriter♥ Stay Gold